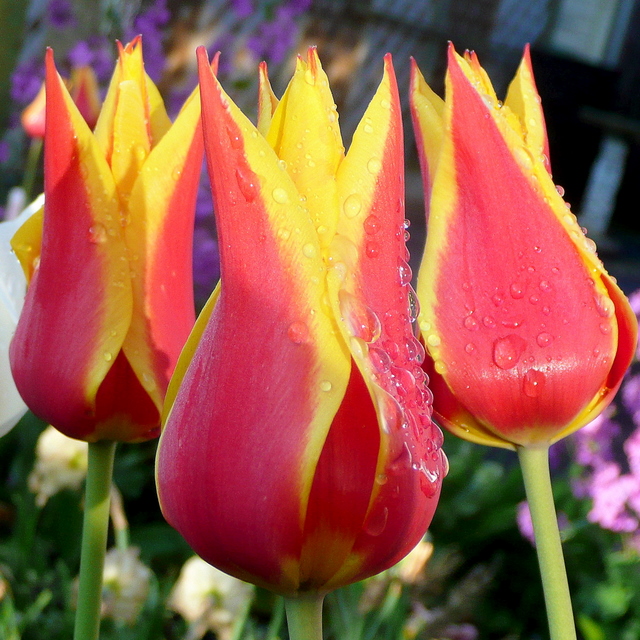 I took advantage of the warm weather to do something I've been wanting to do for years, and that's to put in a tulip cutting garden.
Those of you who live in areas where there are critters know the problem with trying to grow tulips – apparently, the bulbs are very tasty treats!
I've tried the trick of interplanting them with daffodils – which rodents won't touch – but have found you pretty much have to completely surround the tulip bulb with daffodil bulbs to keep them safe.  Let too much space go between the tulip and the daffodil, and the rodent just picks his way through the bulb minefield and snacks on the tulips.
But, this year, I am hoping to actually grow some for my enjoyment, and have dedicated one of my raised beds that I know I won't need until late spring to growing tulips.  I've planted the bulbs and fastened hardware cloth over the top to keep the little pests out.  With any luck, I'll have tulips to cut and enjoy next spring.
Now, I can already envision the local squirrels and chipmunks banding together to plan a raid on this bed of good eats, so I'll let you know if I come out some morning to find the hardware cloth ripped away (I'm picturing squirrels with crowbars) and bulb carnage everywhere.
Otherwise, I hope to post a picture of my very own tulips next spring.
BTW, my neighbor has some gorgeous, old (non-hybridized) tulips that bloom reliably every year.  His are interplanted with other stuff the rodents don't like, so no doubt he's wondering what my problem is.  I've been vicariously enjoying his tulips ever since we moved here!