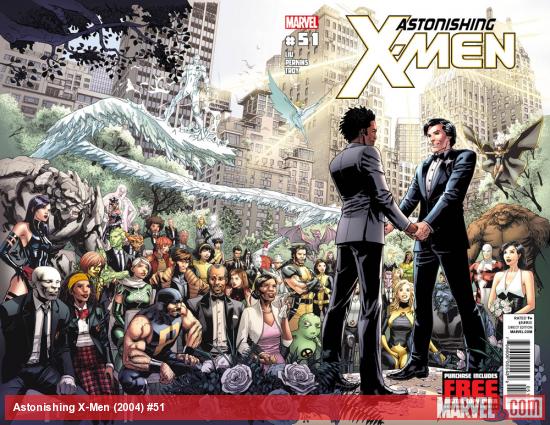 The print edition of The Roanoke Times this morning included a short blurb, part of an AP story, about a same-sex wedding soon to appear in Marvel comics. Mutant Northstar, who was outed as gay in 1992, will marry his boyfriend in "Astonishing X-Men" No. 51, due out next month.  The proposal occurs in the issue out today. His fiance, Kyle Jinadu, is non-mutant and black, which will make it a interspecies, interracial, gay wedding spectacular. (Read more from Marvel.)
These sorts of things are usually plotted out months in advance by writers and comic book publishers.  Still, one cannot help but notice the serendipity with President Obama's recent announcement that he now supports same-sex marriage.
While this is the first gay wedding for Marvel, it is not the first gay wedding in comics. Most news stories point to the wedding between the Midnighter and Apollo of "The Authority" back in 2002. They are, in my opinion, a much more interesting couple. Can anyone remember an earlier one?